Mag Data Collection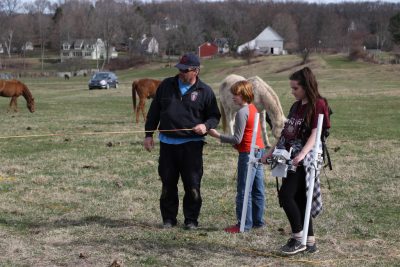 pipe stems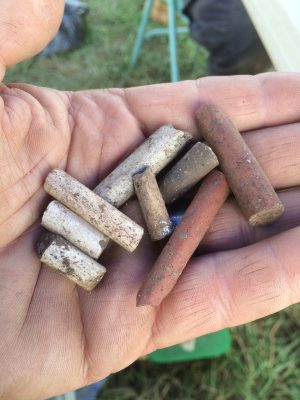 Middle Cellar 2016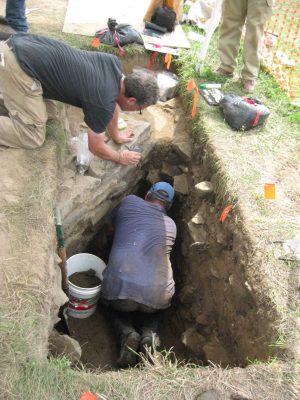 Conference on New England Historical Archaeology Newsletter, Fall 2016
Lieutenant John Hollister arrived at the young settlement of Wethersfield Connecticut from a village near Bristol, England in 1642. He married Johanna Treat (daughter of Richard Treat, a man of high social standing in the community), the same year and was admitted freeman in 1643. Preliminary genealogical research suggests that Hollister was a second son, thus unable to inherit his father's estate in England. However, he appears to have arrived in New England with ample capitol, and according to Wethersfield land records, by 1655 had acquired twenty-three parcels of land totaling about 240 acres. Sixty acres of this land included a working farm located at Nayaug, on the east side of the Connecticut River. This farm was likely purchased prior to 1650 and included a house and outbuildings. Hollister's growing family already occupied a home in Wethersfield center, and records indicate that he let out the farm to the Gilberts (another West Country family) in 1651. The Gilberts worked the farm for Hollister until 1663. Josiah Gilbert's family included six children born during their occupancy, and his father and some of his brothers likely lived there as well.
Lieutenant Hollister died at a relatively young age in 1665. His lengthy probate lists assets valued in excess of £1600. His son John received "his house and barn, orchard and pasture" with "sixty acres of plowing and mowing with other land" in Nayaug, with the understanding that he would provide his mother with twenty bushels of apples and two barrels of cider a year. The probate also indicates that large quantities of both wheat (20 acres) and Indian corn (23 acres) were being grown on the farm. John married in 1667 and started his own large family at Nayaug. The farm was fortified with a palisade in 1675 to protect neighboring families and their farm products during King Philips War. During this time, John also aided the local Wangunk tribe with the construction of a palisade on high ground just north of Nayaug. Toward the end of his life, John parceled off his lands to his sons who began to raise their own families nearby. John Hollister died in 1711 and the house is believed to have fallen out of use by ca. 1715.
In 2015, the Glastonbury Historical Society and landowner Mark Packard, a Hollister descendent, approached the Connecticut Office of State Archaeology to run a public excavation in the large horse pasture believed to be the location of the John Hollister farm. In preparation for this, I asked UConn graduate student and ground penetrating radar expert Peter Leach to survey the area for features that might be worth investigating. That preliminary survey produced remarkable results – three large rectangular cellars were identified, as well as other probable outbuilding cellar features and a number of large pits or posts. The one-day Historical Society dig produced a small assemblage of artifacts that hinted that this could be the location of the Hollister farm, so a more intensive follow-up study was scheduled for 2016.
The 2016 field season began with a magnetometry study of about three acres of the pasture surrounding the core site area. This work was conducted by graduate students Maeve Herrick and Jasmine Saxon from the University of Denver. Herrick and Saxon followed this study with additional GPR work in July and August, expanding on Leach's original survey. Archaeological excavations were undertaken in August through public programs associated with the Connecticut State Museum of Natural History (UConn) and the Historical Society of Glastonbury. The excavation season focused primarily on the three main cellar features identified in the radar surveys. Portions of these cellars were excavated to their floors at a depth of about 150cm. The cellar fill, passed through 1/8-inch hardware cloth, proved to have preserved very rich deposits of faunal remains, including both wild and domestic mammals, as well as turtle and fish bone, scales and abundant shellfish. Carbonized maize and bean were also identified during the excavation, and smaller botanical remains will likely be recovered from flotation samples.
Artifacts have yet to be inventoried, but included a large fragment of a north Italian marbleized slipware bowl, decorated and plain delftware sherds from both hollow and flat wares, abundant red and white clay pipe fragments (typically with 8/64-inch diameter stems), glass beads, a brass bell, a latten slip top spoon, rhenish stoneware and a variety of English slip-decorated and lead-glazed earthenwares, including probable examples of Midlands blackware and yellow borderware. Of particular significance was the recovery of fragments of a very large Native-made storage vessel near the bottom of the central cellar. This item is a tangible reflection of the close relationship between the Hollister family and the local Wangunk people.
The site is arguably one of the state's most significant because of its age, richness, and lack of subsequent disturbance. In terms of material culture, it is perhaps most comparable to the Governor Sir William Phips Homestead in Woolwich, Maine examined by Robert Bradley. Architecturally, the Hollister residence may prove to reflect a very long West Country style "cross-passage" house, but further work will be required to determine if the three aligned cellars formed part of a single household structure or not. The site's mix of wild and domestic food remains as well as the use of Native made pottery also bring to mind Sylvester Manor at Shelter Island, Long Island investigated by Stephen Mrozowski. Both of these sites represent similarly wealthy plantations and trade centers associated with important colonial families.
Analysis of the materials recovered from the site is just being organized now. A special session at the Society for Historical Archaeology conference is already being planned to present the results of that analysis in 2018, so stay tuned.
---