The 2016 Templeton Site Crew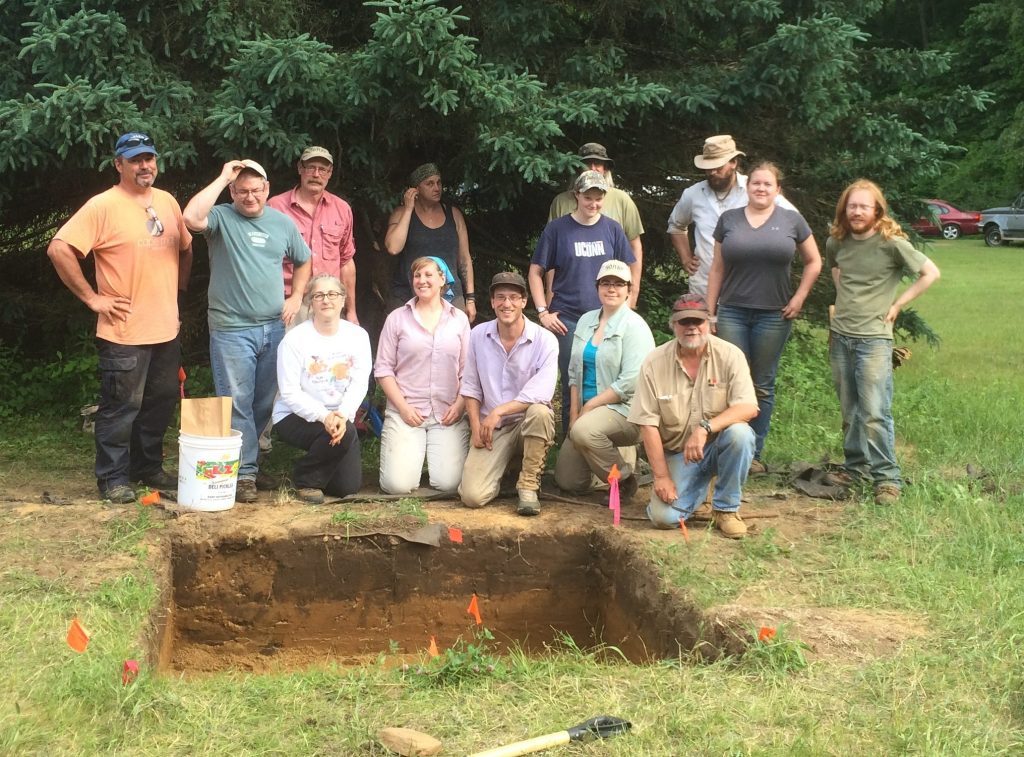 Excavation at the David Humphreys House, Ansonia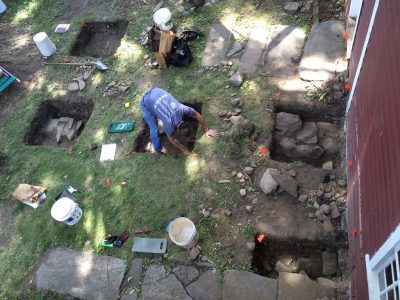 FOSA Newsletter Fall 2016
The Office of State Archaeology has had a busy and exciting few months since the last newsletter went out. A series of tremendous archaeological research opportunities kicked off with two weeks of work at the Templeton Site in Washington, Connecticut supervised by UConn graduate student and FOSA board member Zac Singer. After relocating Roger Moeller's original excavation grid, control points were set across a large area of the site that had not been previously investigated. Shovel test pits were placed at four-meter intervals and excavated to depths in excess of a meter. Two, two-by-two meter excavation blocks were placed to better sample previously unidentified Paleoindian loci. One block produced additional abundant debitage, while the other was low in flakes, but did include a large probable Paleoindian flake tool and biface fragment. Zac will be busy with the interpretation of the new data for a while, but we look forward to his conclusions and recommendations for future work there. OSA was joined by many FOSA volunteers, as well as members of the Archaeological Society of Connecticut, the Institute for American Indian Studies, and the Litchfield Hills Archaeology Club. Professional archaeologists from AHS, Inc. and PAL, Inc., and even New Hampshire State Archaeologist Dr. Richard Boisvert joined in as well, while Dr. Moeller stopped by often and provided important insights. It was an extraordinary opportunity to reexamine one of the state's most significant sites and I'd like to thank all of you who were able to lend a hand, job well done!
FOSA volunteers and four UConn graduate students also helped with the important rescue of materials from the off-campus Baker Building. Baker was a former storage space for OSA and records going back to Doug Jordan's time had been kept there. The building had also been used as overflow storage for some very important archaeological collections. Because Baker has been mothballed by UConn, we had to secure the important documents and site assemblages in a new safe location. Some of the more notable collections recovered were from the Late Archaic Tinkham Site, the Terminal Archaic Schwartz Site, and the Late Woodland Morgan Site. I was recently contacted by UConn about some possible new off-campus storage space, so keep your fingers crossed and be prepared to come help with the move when the time comes!
In June, FOSA volunteers helped with a week of excavation at the National Register-listed David Humphreys House in Ansonia. The David Humphreys House is home to the Derby Historical Society. It was constructed in 1698 and is the birthplace of David Humphreys, aide-de-camp to George Washington during the American Revolution and the young nation's first ambassador. Humphreys is also famous for importing the first Merino sheep from Spain which resulted in a transformation of Connecticut's landscape as the new fine-fleeced flocks soon dotted the countryside. Work was conducted at the site because of proposed drainage improvements that threatened to disturb the buried archaeological record behind the house. The archaeological work conducted here by FOSA volunteers uncovered evidence of a forgotten rear lean-to, as well as the remnants of daily life between ca. 1700 and the 20th century. Among the most interesting finds were children's toys, including clay marbles, a tin soldier, pencil leads, and an inch-long mid-19th century porcelain doll known as a "Frozen Charlotte." Because of the significance of the site, FOSA members may have a chance to return for follow-up work this fall, so keep your ears open if you are interested.
Following that excavation, OSA ran its pilot Archaeological Field School for Educators. This program was developed to provide educators with a hands-on experience in archaeology so that they could share their enthusiasm for the past with their students. Work at the site focused on the examination of a filled house cellar in Windsor believed to be that of Captain John Mason. Mason is an historically controversial figure, famous for leading colonial militia in a bloody war against the Pequot tribe in 1636. The house was later occupied by the Marshall family who appear to have abandoned it in the second half of the 18th century, and most of the artifacts and food remains recovered appear to reflect their long use of the property. Some of the finds made here included German Westerwald stoneware, English scratch-blue stoneware, delftware and slip-decorated earthenware, all characteristic of the early to mid 18th century. The landowners and Windsor Historical Society have been very supportive of this research, so we hope to be back in future years with the same program. Special thanks go to FOSA members Lori Kessel and Scott Brady who acted as mentors to the teachers who took part in the program.
Last, but certainly not least, OSA ran the CT State Museum of Natural History's adult field school at the Lt. John Hollister Site in Glastonbury in August. As mentioned in the last newsletter, we had high hopes that the site would prove to reflect an intact 17th century farming complex and we were not disappointed! Work at the site had previously kicked off with a spring-break magnetometry survey by University of Denver graduate students Maeve Herrick and Jasmine Saxon. This summer, Jasmine and Maeve returned for follow-up ground-penetrating radar studies that expanded on Peter Leach's original survey last summer. This work will prove invaluable for future excavation planning and site interpretation moving forward.
The excavation season focused primarily on three of the four cellar features identified in the radar surveys. Portions of these cellar features were excavated to their floors at a depth of about 150cm. The cellar fill proved to have preserved very rich deposits of faunal remains, including both wild and domestic animals, as well as fish bone and scales and abundant shellfish. FOSA member Lori Kessel also identified maize and bean fragments during the excavation. The finds were too numerous to mention, but some highlights included a very uncommon fragment of a north Italian marbleized slipware bowl, numerous decorated delftware sherds, abundant red and white clay pipe fragments, a brass bell, a latten slip top spoon, examples of German stoneware and a variety of English slip-decorated and lead-glazed earthenwares. Of particular significance was the recovery of fragments of a very large Native-made storage vessel. This item is a tangible reflection of the close relationship between the Hollister family and the local Wangunk people suggested by some of the historical accounts of the period. FOSA volunteers provided tremendous help with two busy public dig days sponsored by the Historical Society of Glastonbury: one for the general public and one for two local scout troops working on their archaeology merit badges. FOSA volunteers completed the excavation season with some time to explore the site on their own and to wrap up all of the loose ends. Special thanks go to the Packard family for their generosity and permission to work at the site and interrupt their summer!
There will be plenty to do this fall for volunteers in the lab, so keep your eyes on the OSA Facebook page and FOSA web page for updates!
---