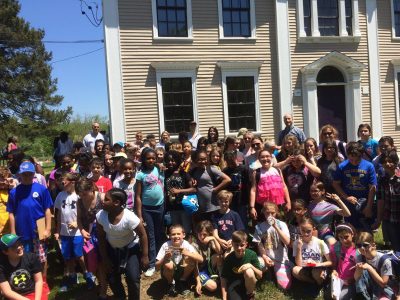 Speaking Engagements
If you would like me to speak to your community or group, I have a number of available lectures to choose from:
"Five Things Everyone Should Know About the Native American Archaeology of Connecticut"
Ninety-seven percent of the history of Connecticut occurred prior to the arrival of Europeans, yet this period is only cursorily covered in the state's secondary school curriculum. In fact, Connecticut provides an important laboratory for the global study of human adaptation to changing social and natural environments. Five key topics stand out that everyone in Connecticut should understand about its deep past. These are: 1) the colonization of an uninhabited Ice Age landscape, 2) adaptation to post-glacial habitats, 3) the development of formalized exchange networks, 4) strategies for feeding a growing population, and 5) the development of politically complex societies. An examination of these topics indicates that the archaeology of the state provides fertile ground for understanding not only Native American life-ways of the past, but the social, economic and political challenges shared by many societies around the globe.
"Connecticut's Earliest European Settlers: recent finds from Glastonbury and Windsor"
During the past three years, archaeologists and public field school participants have unearthed clues about Connecticut's early colonial past at three archeological sites. The first was undertaken after the unexpected discovery of a buried house cellar within the original John Mason home lot within the Pequot War-era Windsor Palisade. The second site is a large buried farm complex associated with Lt. John Hollister of Glastonbury, dating between 1650 and 1715. The third is the homestead of Francis Stiles, later owned by the Ellsworth family of Windsor. Join Dr. Brian Jones, Connecticut's State Archaeologist who led these excavations, and discover what these recent archaeological explorations in Windsor and Glastonbury tell us about Connecticut's earliest European settlers, and how modern radar-based surveys are helping to find these long-forgotten sites.
"An Ice Age Odyssey: The Pope Mastodon's Epic Journey Through Life, Death, Storage Crates and Museums"
In August of 1913, workmen digging a ditch on the Hill-Stead estate of A.A. Pope in Farmington uncovered the remains of a mastodon. The huge bones were excavated by a crew of scientists from the Yale Peabody Museum, where the mastodon was taken for conservation and study. Shortly thereafter it ended up in storage back in Farmington where it was largely forgotten for decades. In the late 1970s, the Institute for American Indian Studies tracked down the mastodon at Yale, arranged an extended loan, and placed it on exhibit. A decade later, the mastodon was transferred back to Yale and then the Connecticut State Museum of Natural History at UConn. Ignored again for decades, the scientific significance of the remains was recently brought back to public attention when a successful radiocarbon date on a tusk fragment was conducted indicating that "Old Longtooth" passed away about 14,500 years ago. This talk summarizes the Pope Mastodon's epic journey and his (or her) continuing importance to understanding Connecticut's ancient environment and history.
"Historic Archaeological Sites as Time Capsules"
Historic sites associated with both standing and long-vanished house structures have the potential to act as time capsules documenting multiple generations of occupation. Artifacts and features associated with such sites express both individual family-related patterns of life, as well as long-term changes in society as a whole. Recent work at the buried Lt. John Hollister Site in Glastonbury has uncovered a rich archaeological record documenting the lives of two families living at the site between 1650 and 1715. Archaeological investigation at the National Register-listed David Humphreys house in Ansonia documents this influential family's day-to-day life through the 18th century, as well as the lives of later owners and tenants through the mid-20th century. These two sites reflect important changes in the colonial through federal-period economy as well as changes in social attitudes toward morality, privacy, cleanliness and the nature of childhood. Historic sites in every town across the state are likely to produce equally fascinating and historically significant information if examined with appropriate scientific rigor.
Public Archaeology with OSA
The Office of State Archaeology wishes to increase public awareness of the importance of historic preservation.  OSA accomplishes this through a variety of public programs, lectures and events.  One of my primary goals is to reach as diverse a population as possible so that everyone has a chance to enjoy the hands-on experience of history that archaeology provides.  To meet these goals, OSA currently offers 1 week mini field schools for specific audiences as well as 1 day events for local communities.  OSA depends on its Friends organization, FOSA to make all of this happen. If your organization would like to arrange a 1-day excavation day at a site of importance to you, please contact me at brian.jones@uconn.edu to check on availability and scheduling.