Windsor Meadows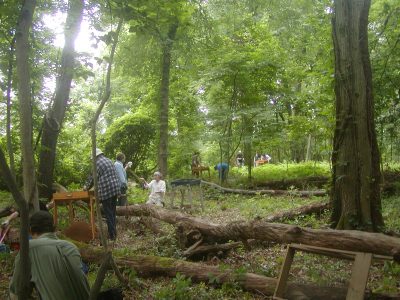 Field crew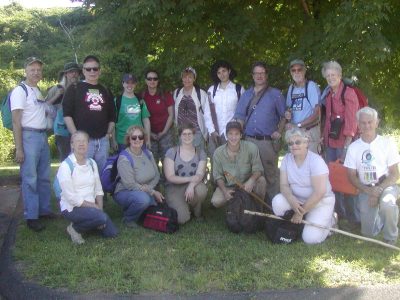 FOSA Newsletter Spring 2016
It has been a busy few months for FOSA volunteers at the Horsebarn Hill lab of the Office of State Archaeology. We have pushed our way through the prepping and cataloging of many of the office's backlogged sites – some dating back many years. This hard work has resulted in a much better organized lab and I am extremely grateful to all of those who have helped out. One of the office's major steps in the past few months was the re-establishment of the computer-based archaeological inventory system. The database had been in use in the early 2000s, but with the loss of some of the office's graduate support staff, its use unfortunately faded from daily practice and for the past decade records went largely back to paper forms. I spent some time cleaning up the new (old) database to increase its ease of use and add some functionality. Now artifacts inventories, ID tags, and reports such as mean ceramic dates and mean pipestem dates are again available at the press of a button. Some FOSA members, such as Lori Kessel and Scott Brady have now had a chance to get to know the system, and are currently finalizing the inventory of the 2014 CSMNH Titus Coan field school site, while I continue to pick away at the inventory of the 2015 CSMNH Mason House lot field school site. I am pleased to say the inventory of the 2015 FOSA Windsor Meadows field school site was completed this Fall as our first test case of the new system.
We are making plans for this summer's field schools, including one aimed at secondary school teachers interested in teaching archaeology to be held the week of July 18th. That will likely take place in Windsor, but the details are still being fleshed out. If you are a teacher, or know one, and want more information about this program, please contact David Colberg at the CSMNH (david.colberg@uconn.edu). The Natural History Museum's adult field school will be held, as usual, during the first week of August (the 1st through 5th). This year we will be following up on last summer's preliminary investigation of the John Hollister site in South Glastonbury, a 17th century fortified farm complex. The goal will be to explore the site's four cellar features discovered during the GPR survey and establish their chronology. Those interested should also contact David Colberg at the museum. FOSA's field school will take place at the same site from August 15th through 19th. Members are welcome to come and help us wrap up this season's investigation for a day or the whole week, as space permits. By this time we should be well into all four cellars, and if all goes as anticipated, we should be examining some very interesting and uncommon 17th century artifacts and features. Stay tuned to the FOSA web page for further information.
In the meantime, FOSA members interested in volunteering for fieldwork should be sure they are on the contact list. I am expecting a number of Natural Resources Conservation Services digs beginning shortly this Spring. Also, anyone with experience in historical document research is welcome to lend a hand with our ongoing examination of the rich history of the families who occupied the John Hollister site between 1650 and about 1715, including the Gilberts and Hollisters. Preliminary investigation of the records at the Wethersfield and Glastonbury clerk's offices, as well as the State Library indicate that there is a wealth of primary information available about these families, including records of numerous land transfers and disputes and other legal documents. My thanks go out already to Kris Keegan who provided the transcription of a particularly challenging probate document. Those interested should contact me to best coordinate our efforts.
---