Merriman Cemetery, Southington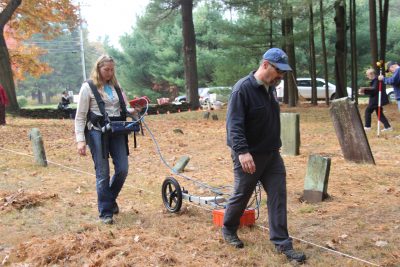 CSMNH Newsletter Spring 2015
As an archaeologist working in Connecticut for over twenty years, I sometimes asked myself, I wonder what Nick Bellantoni does as the State Archaeologist?  Well, since last July I've begun to find out.   I expected that there would be calls and emails from the public about strange things found in their gardens.  I expected that there would be days spent in meetings at the State Historic Preservation Office.   I expected that there would be requests for archaeological assessments from developers.  I expected that I would be giving plenty of public talks and would be working with school groups at local sites.   But there were a number of things I didn't expect.
The first became immediately apparent as Nick drove me around the state that first month to meet scores of individuals deeply committed to historic and environmental preservation.  Getting to know and work with these people has been one of the real pleasures of the job.  I also learned that I belong to a National Association of State Archaeologists that refers to itself as NASA.  While we aren't astronauts, the group maintains a stellar email-based information exchange system that provides instant access to very knowledgeable individuals who deal with the same types of issues across the country.
Perhaps the biggest surprise I had starting the job was the public's interest in cemeteries.  Cemeteries are clearly central to people's sense of heritage and place, but at first I simply did not understand what they had to do with archaeology.  It turns out that Connecticut has a lot of cemeteries, and many of them are small and long forgotten.  When Charles Hale completed his index of the state's cemeteries in 1937 he had identified 2,269 burial grounds, or an average of over 13 per town.  Today many of these family cemeteries are threatened by neglect, and sometimes construction.  Luckily, I've met with a number of people committed to better managing and protecting them.   In the past year I've already worked on eight of the state's cemeteries, from Darien to Woodstock, and I expect this will continue to be an important, if unanticipated, aspect of the job.
---