Diana with German Westerwald stoneware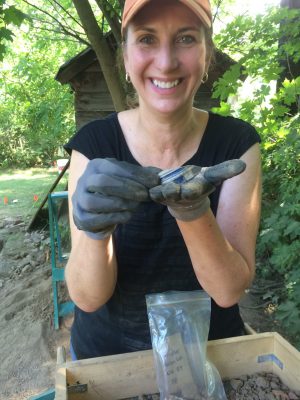 Site Background
In 2016, OSA ran its pilot Archaeological Field School for Educators.  This program was developed to provide educators with a hands-on experience in archaeology so that they could share their enthusiasm for the past with their students.  Work at the site focused on the examination of a filled house cellar in Windsor believed to be that of Major John Mason.  Mason is an historically controversial figure, famous for leading colonial militia in a bloody war against the Pequot tribe in 1636-1637.  The house was later occupied by the Marshall family who appear to have abandoned it in the second half of the 18th century, and most of the artifacts and food remains recovered appear to reflect their long use of the property.
John Mason arrived in Massachusetts in 1630 with Reverend John Warham on the Mary and John.  Five years later, Mason joined Reverend Warham in the settlement of Windsor with other Dorchester residents. Mason and Underhill lead the Connecticut militia during the Pequot War between 1636 and 1637.  His daughter Priscilla was born in 1641 and son Samuel in 1644.  In 1647 Mason removed to Saybrook, presumably with his young family.  They would then move to Norwich in 1660.  In 1653 Mason's 3.25 acre Windsor lot within the palisade was sold to his neighbor to the north, Henry Clark.  In 1655, a half-acre of Clark's land was sold to Samuel Marshall with "the dwelling house and barn, and apple trees upon it, which was John Mason's."  This land abutted the main road and bank overlooking the Connecticut River, where the site is situated.
Some of the finds made here included pipe bowl fragments and additional small finds dating to the 1600s that could reflect Mason's short period of residence at the site.  German Westerwald stoneware, English scratch-blue stoneware, decorative delftware and slip-decorated earthenware, are more characteristic of the early to mid 18th century and are probably associated with the Marshall family.  The landowners and Windsor Historical Society have been very supportive of this research, so we hope to be back in future years with the same program.  Special thanks go to FOSA members Lori Kessel and Scott Brady who acted as mentors to the teachers who took part in the program.
brass cloak clasp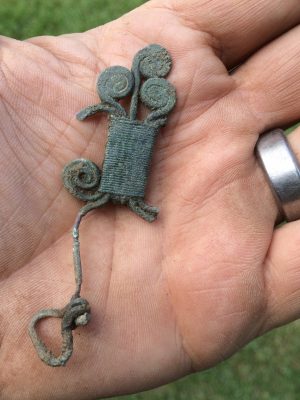 cooperative troweling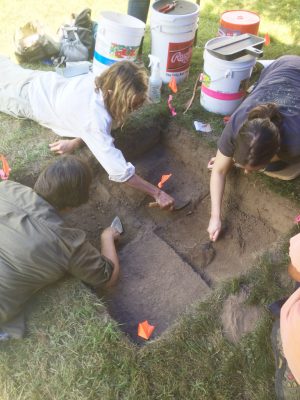 Scratch blue English white salt-glazed stoneware
Robert Tippet pipe bowl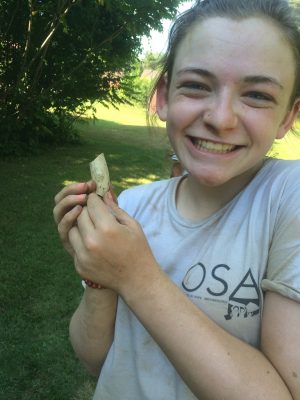 Westerwald stoneware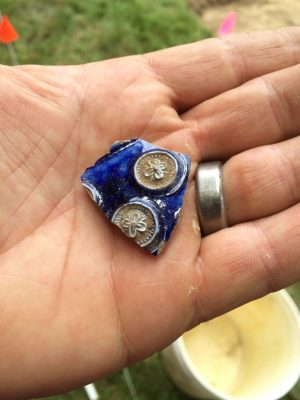 David Colberg at work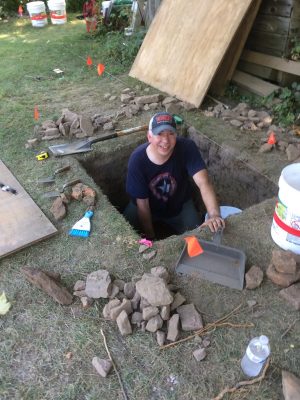 Tippet Pipe closeup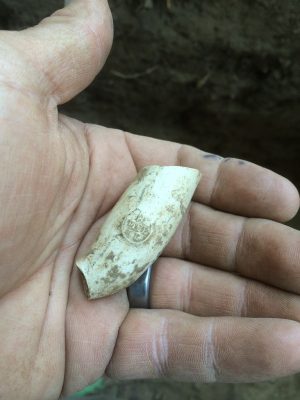 Delftware punch bowl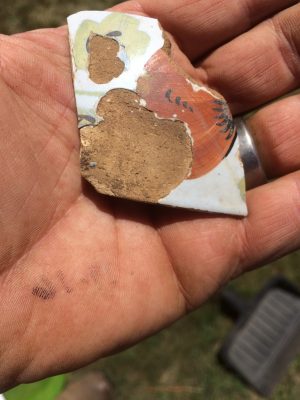 Lori Kessel sorting finds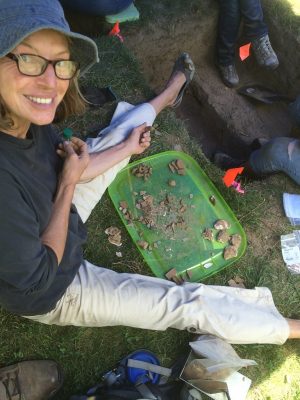 dated pipestem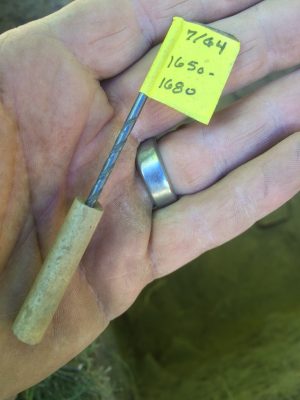 slip decorated earthenware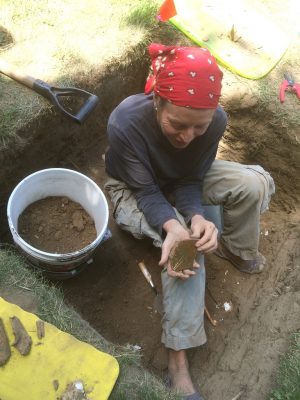 terracotta pipe stem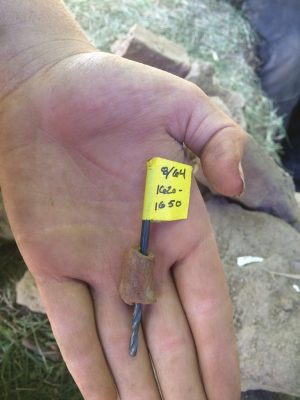 Scott Brady helping out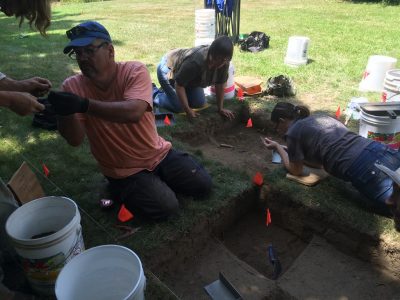 painted delftware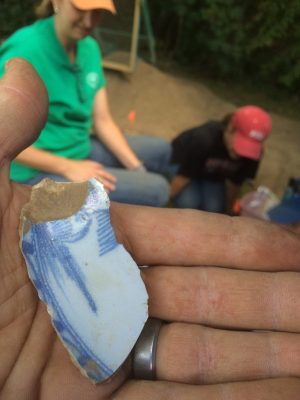 medicine bottle
small button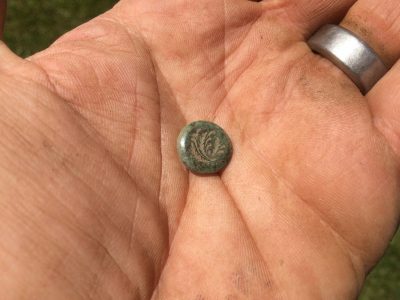 flint strike-a-light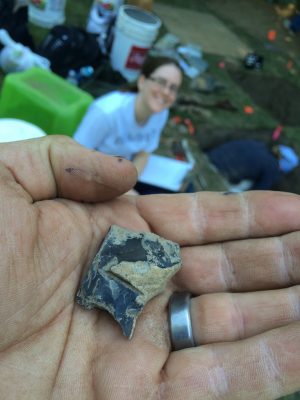 stemmed point