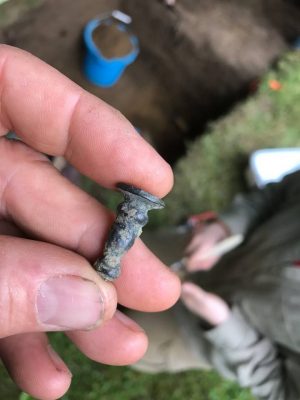 I found something in my garden, is it an artifact?
Connecticut has been a home to people for more than 12,000 years, so artifacts can be found nearly everywhere.  If you are curious about something you have found, send a photo in an email to brian.jones@uconn.edu and I'll let you know if it is something worth caring for.  Be forewarned that there are many peculiar objects produced by natural geological forces and that things that "fit just right in my hand" are probably not actually artifacts.  Native American artifacts are usually manufactured from quartz, quartzite or chert in our area will have sharp edges and will show clear signs of being purposefully chipped into a desired shape.  Other tools may be ground from basalt, but will also exhibit clear evidence of manufacture.  Historic period artifacts, like the end of the 17th century spoon handle shown on the left are more readily recognizable, but may be challenging to interpret.
Someone is putting in a subdivision next door and I think there is a site there!
The Office of State Archaeology is often asked by concerned neighbors about nearby construction.  If you think that an important historical or archaeological site may be at risk, contact me so that I can look into the matter.  The more detailed information you can provide the better.  Did a relative find artifacts on the site of concern?  If so, do you have pictures of them you can share?  Have you spoken with the town historian or historical society to learn more about the history of the property?  Have you checked with Planning and Zoning to determine if they have regulations in place that require an archaeological survey? Please understand that I will do my best to recommend that an archaeological survey be conducted if one appears warranted, however implementation of that recommendation is generally up to the P&Z.  Also be aware that the goal of archaeological surveys is to determine if a significant site is present.  If one is found, OSA will recommend that the immediate location be avoided.  If that is not possible, I may need to conduct a salvage excavation.  The presence of an archaeological site is therefore unlikely to stop a development.  If that is your primary goal, I recommend working closely with your local Planning and Zoning office to make your concerns clear.
How can I learn more about the history of my property?
Many resources exist for owners of older houses. Archival research at your town clerk's office can provide a better understanding of your house and lands. Your local library and historical society can also often provide important information about the history of your neighborhood. A title search, old maps and atlases, tax records, government census records, and town histories may offer insights about former owners, their families and their occupations, as well as information on other structures that may have once existed on the property. Municipal historians are also highly knowledgeable and are eager to assist with research about their communities.
Can I collect arrowheads or allow metal detecting on my property?
Rural property owners are apt to occasionally discover stone arrowheads, broken colonial dishes or bottles, hand wrought nails, old window glass and the like in their gardens and around their homes.  Legally, it's permissible for an owner to collect these sorts of artifacts from their own property (though not on state land!). However, significant information about our past becomes distorted when artifacts are removed from archaeological sites. In particular, metal detecting can seriously alter the integrity of archaeological sites. Any excavation activity is destructive and important knowledge about Connecticut's heritage can be irrevocably lost. Resist the temptation to dig or to allow others access to your property for this purpose.  If you think you have come across something significant, contact the state archaeologist at brian.jones@uconn.edu.
What can I do to protect archaeological resources located on my property?
Good stewardship begins with responsible actions. Native American sites can be very old, very fragile, and offer significant insights about the distant past. If you discover Native American artifacts, contact the Office of State Archaeology for appropriate guidance.  If you occasionally find broken bits of early ceramics or other colonial artifacts while gardening or landscaping, develop a system for recording or cataloging where these discoveries occurred. Draw a map of your property and describe where and how each find was discovered. This information will help future property owners, historians and archaeologists better understand the property's changing history and use through time. However, if you discover a buried foundation or a dense concentration of historic artifacts on your property, seek the professional assistance of the Office of State Archaeology.
Where can I donate my collection of artifacts?
The Office of State Archaeology at the Connecticut State Museum of Natural History is the official repository for archaeological artifacts from Connecticut.  While many of these come from professional archaeological excavations, others represent personal collections donated over the past 50 years.   We are always interested in Native American and historic materials that will increase our understanding of the past. Donating collections to the Office of State Archaeology also helps fight the illicit trade of antiquities.   If you have materials you think might benefit this effort, and are looking for a safe, permanent home for them, please contact the State Archaeologist and he will be pleased to consider them.  While we cannot guarantee that your finds will be placed on exhibit, they will be available to students and scholars conducting research.